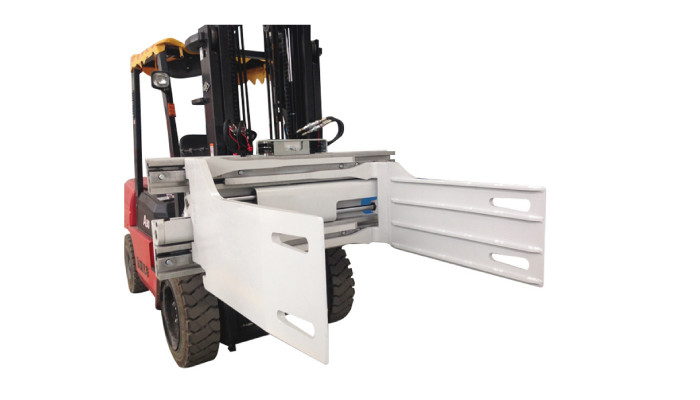 1. Aplikasi:
---
-Bale clamp efficiently and economically handle nearly any type of baled products including cotton, wool, synthetic, textile bales, corrugated, newsprint, rag, hay, metal and other scrap bales.
-High efficiency and economy to handle in without work platform condition.
2.Features & Advantages
---
-Proven durable T-beam arm aluminum frame construction.
- Bantalan lengan-geser superior untuk masa pakai lebih lama.
-Ribs provide secure grip and give driver good tip handling and bale spinning capabilities.
Katup hidrolik -Regeneratif untuk kecepatan lengan optimal.
Visibilitas pengemudi sangat baik.
forklift Bale clamp
forklift with bale clamp attachment
An important component of a product configuration
Hydraulic systems: the main control valve in the load to maintain valve adopts imported products; seals are imported products; high-pressure hose with cone seal, high-performance hose.
Structural parts: the left and right plates with Q460 high-performance steel plates, shaped by the overall pressure and correction.
Mechanical performance: Built-in lateral feature, you can also achieve clamping / opening and lateral function and good vision; additional oil line can meet the requirements of the two groups.
Application: can be effective and economic handling almost any form of software packages, such as cotton, wool, textiles, corrugated sheets, white paper, rags, hay, and other industrial debris.
Nomor pesanan.

Kapasitas

@load

center

Pemasangan

Kelas

Pembukaan

Jarak
(mm)

Available

Forklift

Arm Height (mm)

Lengan

Length (mm)

Frame width
(mm)

Overall height
(mm)

Berat
(Kg)

Efektif
Ketebalan

 (mm)

RJ19RT-A1

Ⅱ

445-1670

1-2.5t

420

996

1040

796

580

198

RJ25RT-A1

Ⅱ

600-1880

2-2.5t

460

1200

1010

769

750

259

RJ30RT-B1

Ⅲ

560-1850

3-4.5t

460

1200

1010

769

750

259
catatan:
1, truk / daya dukung yang sebenarnya adalah pabrik komprehensif yang diperoleh dari forklift.
2, this is a matching increase in group 2 required additional forklifts require asphalt.
Pressure for flow meter
---
Model
Pressure value(Bar)
Flow value(L/min)

Least

Maks
Lateral movement
Clamping action
Least
Recommend
Maximum
Least
Recommend
Maximum
RJ**RT
35
180
19
26
38
19
26
38
Rotating torque requirements
---
Plywood pallet for bale clamp
---
-Welcome OEM
-We can designe as customers' requirement
-Provide whole solutions from production to handle
-Spare parts are available and can replace Cascade's spare parts
---
Lampiran Bale Clamp
,
Bale Clamp Untuk Forklift